Posted on | February 28, 2014 by Wendy Wright
British civil servants are busily re-writing 700 years of laws to accommodate the "Same Sex Marriage Act," which goes into effect in March.
Lest anyone thinks same-sex unions are equal to man-and-woman, the British made clear in the Act that it does not apply rights to anyone "who marries, or who is married to, the King Regnant, to the title of Queen".
Neither can a "husband" of a future Prince of Wales become a Princess of Wales.
The same for Dukes, Earls and other royalty.
Another exception is the Treason Act of 1351. To "violate the King's companion" — the husband or wife of the monarch — is high treason. But this will not apply if the spouse is the same sex.
"They presumably don't want to end up with the situation of, for example, there being two duchesses or a man with the title of duchess," Julian Lipson, head of the family law practice at Withers LLP, told the Telegraph.
Christian Concern reports:
This week, MPs approved sweeping changes to legislation dating back as far as 1285AD to avoid unintended consequences of the Marriage (Same Sex) Couples Act 2013.

Meanwhile, a leading lawyer has pointed out that anomalies raised by the new legislation mean that the UK Government must admit that "equalness of same-sex marriage has its limits".

Draft Order

A committee of MPs voted in favour of a draft order outlining amendments to 36 Acts going back to 1859 and an additional 67 pieces of legislation dating back 729 years.

Under the proposals, references to mother, father, husband and wife will be amended, whilst a number of other laws, including the 1351 Treason Act, will be excluded from the new legislation.

This means that while it will remain high treason to have sexual relations with the wife of a future King, this will not be the case where adultery is committed with a King's same-sex 'spouse'.

The order makes clear that a man who 'marries' a King of Britain cannot be referred to as Queen, and the same-sex partner of a future Prince of Wales cannot be entitled Princess of Wales.

"Mess"

The amendments, described by critics as a "complete mess", extend to dukes, earls and other male peers in order to stop same-sex partners from becoming a duchess, countess or lady.

The term "widow" will also be removed or replaced with "surviving spouse" or in some instances with the "woman whose deceased spouse was a man".

Amendments are even proposed to the Metropolitan Public Carriage Act 1869, which allows cab licenses of deceased husbands to be transferred to their widows by way of a London cab order.

A date has not been set for the debate of a further order which sets out proposals for the provision of fertility treatment for same-sex couples.

"Legal confusion"

Commenting on the proposals, Andrea Williams of Christian Concern said: "The Government was warned time and again that its plans would result in legal confusion and do away with the common understanding of historic terms such as 'husband', 'wife' and 'widow'".

"We now have a situation where laws dating back 700 years must be revised and tampered with in order to accommodate the new legislation. Proposed amendments in areas ranging from cab licenses to royal titles show what a mess the Government has created.

"It is now attempting to disguise the absurdities thrown up by the move by rushing the changes through Parliament at a time when other high-profile issues are dominating media attention."
Posted on | February 28, 2014 by J.C. von Krempach, J.D.
Since the origins of human civilization until about ten years ago it was clear to everyone that marriage is between a man and a woman, and that same-sex "marriages" therefore cannot exist. No one should therefore be surprised that in the constitutional laws of most countries there is no definition of marriage – it simply was not needed.
With the adoption, by a small but growing number of countries, of legislation that allows for same-sex "marriages", the once universal moral and legal consensus on marriage has been destroyed. As a consequence, there is now also a growing number of States that, in order to protect society against attempts of international institutions (such as the UN, the EU, or the European Human Rights Court) to impose on them a new concept of marriage and family from the outside, are amending their constitutional laws to explicitly define marriage as a permanent union between one man and one woman.
In the EU, while eight countries (the Netherlands, Belgium, Sweden, Denmark, England, Spain, France, Portugal) have adopted, usually by a simple parliamentary minority, laws that allow for same-sex "marriages", there are now seven Member States (Latvia, Lithuania, Poland, Romania, Hungary, Bulgaria, and Croatia) that have constitutional laws to defend the concept of marriage against arbitrary re-definitions. The trend towards recognition of homosexual "marriages" is thus offset by a contrary trend in other countries. Indeed, it is more than offset, given that a law that was passed with a simple parliamentary majority (and, as it happened in France or Spain, against the clearly expressed will of a large part of civil society) does not reflect public opinion in the same way as a constitutional amendment for which a two-thirds majority is needed. One could therefore with right say that the real trend in Europe is to protect marriage against attempts to re-define it.
This is particularly important in the context of recent attempts of the European Court of Human Rights to re-interpret the European Human Rights Convention in the sense that it provides for an obligation of States to legislate for same-sex "marriages" (or at least same-sex civil unions, which then would have to receive equal treatment). Contrary to what one would expect a law court to do, the ECtHR very often bases its findings not on genuine legal arguments, but on perceived legislative "trends": it has a nasty tendency to argue that once a sufficiently great number of countries have recognized a controversial new "right" (such as abortion, or euthanasia, or assisted procreation), this may be interpreted as an "emerging consensus" with which the remaining countries must comply. Of course, such reasoning is hopelessly nonsensical – but it is nevertheless good to see that with regard to same-sex "marriage" there is not the slightest trace of any consensus upon which such temerarious arguments could be built.
The next EU Member State joining the club of countries defending marriage and the family might be Slovakia. As a condition for lending its support to a reform of the judiciary system, for which a constitutional majority would be required, the Christian Democrat Movement (KDH, which is led by a former EU Commissioner) has demanded that a definition of marriage as "a union between a man and a woman" should also be inserted in the country's constitution. The Government, despite being led by a left-wing party, has indicated its willingness to accept this proposal. As a speaker of the government pointed out, this proposal "adds nothing new – it simply confirms what always has been the case".
While there appears to be broad consensus on the meaning of marriage within Slovakia, it comes as no surprise that homosexualist pressure groups outside the country see this as a threat to their agenda. ILGA-Europe, the notorious fake "non-governmental organization" funded by the European Commission to advance the queering of the EU, has published the following press release:
MEDIA RELEASE
27 February 2014
For immediate release
Slovakia must reject the homophobic proposal to redefine marriage in the constitution
Next week the Slovak Parliament will start its new session and one of the legislative proposals registered for discussion is to amend the Constitutional definition of marriage to limit it exclusively to 'a man and a woman'. This proposal has been submitted to the Parliament by the opposition Christian Democratic Movement (KDH) in January 2014.
Representatives of the ruling Social Democratic Party (SMER) including government ministers indicated there is enough support for such proposal. Therefore the possibility of Slovakia limiting the constitutional definition of marriage is real and serious.
ILGA-Europe calls on Slovak parliamentarians to abandon this discriminatory and pointless proposal. Slovakia does not provide any legal recognition to same-sex couples.

Gabi Calleja, Co-Chair of ILGA-Europe's Executive Board, said:
"We are very concerned to see Slovakia follow in this negative direction. Such amendments are discriminatory. Clearly they are not motivated by genuine care about families, but rather aimed to prevent recognition of rights and protection of same-sex partnerships in the near future.
While Europe at large is moving towards increasing legal recognition and social acceptance of LGBTI families, Slovakia seems to be leaning towards the opposite trend of limitations, restrictions and discrimination."

Paulo Côrte-Real, Co-Chair of ILGA-Europe's Executive Board, added:
"Recent and similarly restrictive constitutional amendments in Latvia, Hungary and Croatia demonstrated they are sponsored by religious extremists and ultra-conservatives who do not hesitate to abuse such democratic tools as constitutional amendments or referenda to pursue their narrow homophobic agenda.
Slovak parliamentarians must prevent yet another country falling into such a populist homophobic trap and reject this proposal."
We reproduce this text here because we think that the wider it is distributed, the better. Indeed, it exposes the homosexualist lobby's complete lack of arguments, and its questionable strategy:
It offers no consistent theory on the essence and purpose of marriage – therefore it has no argument why sexual relationships between persons of the same sex should qualify as "marriage", given that they do not, through procreation and the raising of children, provide a contribution to the common good
This apparent lack of argument is offset by the consistent use of hate speech: those supporting the proposal are vilified as "homophobic", "religious extremists" and "ultra-conservatives" who "are not motivated by genuine care about families". Their proposal is "discriminatory" and "populist". Thus, rather than providing rational argument, the ILGA strategy is built on ad personam attacks. This is the typical Communist strategy: don't wast your time with arguments, just attack the man that makes them.
The release also contains serious factual misrepresentations. Most of all, it is absurd to say that the proposed amendment would "redefine marriage". In actual fact, the proposal is to protect the current definition of marriage, which has remained the same throughout history, by giving it the status of constitutional law. On the contrary, it is the homosexualist lobby that wants to redefine marriage.
While it is known that ILGA Europe cannot with right be described as part of "civil society", a media release such as this clearly reveals that it is also not part of civilized society.
The absurd claims of ILGA Europe have been adequately answered by Roger Kiska, the representative of Alliance Defending Freedom, who is also a frequent contributor to this blog. He calls ILGA Europe back to order and raises the question whether an organization that tries to influence public debates with hate speech rather than rational argument can continue to be part of the EU Fundamental Rights Agency's civil society platform:
Posted on | February 26, 2014 by J.C. von Krempach, J.D.
The official process of validation having been completed, it is now confirmed that the European Citizens' Initiative "One of Us", which requests the EU to ensure, when acting within its competence, to protect the right to life as from the moment of conception (and hence to refrain from spending EU developing aid money on the funding of abortions in third countries, or to finance research programs that imply the destruction of human embryos), has been the most successful of all such initiatives so far.
The score is:
• 1,742,156 signatures for "One of Us"
• 1,659,543 signatures for "Right2Water", an initiative that requests the EU to abstain from any legislation that would lead to the privatization of public utility providers in the area of water.
With regard to both initiatives a small proportion of signatures have been declared invalid on formal grounds (e.g. if the birth date of a signatory was missing, or if his address could not be verified).
It is now hoped that the EU institutions will give due weight to this impressive result, which places the right to life atop European citizens' concerns.
Posted on | February 19, 2014 by J.C. von Krempach, J.D.
From a once respected judicial authority, the European Court of Human Rights is increasingly turning into a spearhead of a cultural revolution that has nothing to do, but indeed contradicts and undermines, the values enshrined in the 1950 European Human Rights Convention. This sad development is illustrated inter alia by the way in which this Court selects the cases that it accepts to hear: while a vast majority of complaints, many among which relate to real human rights abuses, are dismissed off-hand, the Court will handpick even the most absurdly frivolous complaints if they provide an occasion to promote novel "values" such as homosexuality or the killing of unborn children.
The latest in a long series of such cases is the case of Orlandi and Others v Italy in which six same-sex couples complain about their inability to have their "marriage" recognised in Italy. The six same-sex couples were all "married" abroad (in Canada, the United States, and the Netherlands) and complain about the refusal of the Italian domestic authorities to recognise their marriage. Italy does not provide any recognition of same-sex relationships, either by way of civil partnership or marriage.
All of the applicants complain that they are being discriminated against, in the enjoyment of their rights protected by the Convention, on the basis of their sexual orientation. They complain, specifically, about the authorities' refusal to register their "marriage" contracted abroad and more generally about the impossibility of obtaining recognition of their relationship in Italy.
The Court has issued the following questions:
Was the interference with the applicants' right to respect for their private and family life, namely the refusal to register their marriage contracted abroad, in accordance with the law and necessary in terms of Article 8 § 2 of the Convention?
Has there been a violation of the applicants' right to respect for their private and family life contrary to Article 8 of the Convention, in particular in so far as they had no other possibility to have their relationship recognised by law?
In what specific ways are the applicants disadvantaged by the lack of any legal recognition of their relationship?
Have the applicants suffered discrimination in the enjoyment of their Convention rights on the ground of their sexual orientation, contrary to Article 14 of the Convention read in conjunction with Article 8 and/or 12 of the Convention, in respect of their inability to (i) register their marriage and (ii) enter into any other type of civil union recognising their relationship in Italy?
The questions, which are the Court's technique to frame the debate, are in and by themselves biased and misguided.
Article 8 of the European Human Rights Convention protects the right to privacy. But the applicants' privacy is not what this case is about. On the contrary, by requesting their homosexual relationships to be recognised as "marriages", the applicants are themselves bringing details of their private lives to the attention of the general public, seeking a public status for these relationships.
In other words: this case simply does not fall within the remits of Article 8. There is no interference with that right. The Court's question whether the refusal to register their marriage contracted abroad, in accordance with the law and necessary in terms of Article 8 § 2 of the Convention is thus disingenuous: there is no need to justify the necessity of an interference with the right to privacy when in fact there is no such interference.
The one and only provision in the Convention that deals with marriage is Article 12. This Article says:
"Men and women of marriageable age have the right to marry and to found a family, according to the national laws governing the exercise of this right"
As the ECtHR has itself pointed out in its decision in the case of Schalk and Kopf v. Austria, the wording of this provision leaves no doubt that according Art. 12 marriage is between a man and a woman.
This difference in treatment is easily justified. The fact that the Convention protects real marriages, but not homosexual "marriages", is not due to a transient "zeitgeist" of the 1950s, nor is it discriminatory. The reason for protecting marriages is that society needs children in order to secure its continuation. These children should grow up in a stable and loving environment. That is the reason why the institution of marriage between a man and a woman is necessary.
By contrast, homosexual relationships are by nature sterile. There is no societal need for them. Therefore it is absolutely ok, and in no way discriminatory, for a State to not legally recognize them.
The protection of real marriages is therefore necessary in a democratic society. The legal recognition of homosexual relationships isn't. That 's why a difference in treatment is not only justified, but indeed just.
Posted on | February 17, 2014 by J.C. von Krempach, J.D.
In the aftermath of the successful European Citizens' Initiative "One of Us", which inter alia requests the EU to stop funding abortions in third countries, Anna Zaborska, a Slovak Member of the European Parliament, addressed the following question to the European Commisson:
In 2012, the NGO European Dignity Watch (EDW) published a report on 'The Funding of Abortion Through EU Development Aid — An Analysis of EU Sexual and Reproductive Health Policy', in which it claimed that the EU's Development Aid and Public Health budgets were being used to fund abortion in developing countries. The European Citizens' Initiative (ECI) 'One of Us' collected almost 1.9 million signatures for a petition that proposes a modification of the EU Financial Regulation in order to prevent EU money being used, either directly or indirectly, to finance abortion. On 22 October, the Commission published a call for proposals on 'Promoting sexual and reproductive health and rights — Universal Access to Reproductive Health'. This call for proposals does not appear to explicitly exclude the financing of projects that involve the provision or promotion of abortion in the countries concerned. Against this backdrop, could the Commission please respond to the following:

Has the Commission ever commented on the EDW report? If not, could it do so now?
Given the success of the ECI 'One of Us', is the Commission contemplating any interim measures, such as a moratorium, to ensure that no EU funds are used for projects involving the provision or promotion of abortion in the countries concerned?
According to the findings, the Commission did indeed fund NGOs providing abortion services in third countries where abortion is subject to constitutional restrictions. What is the Commission's policy on respecting the national sovereignty of third countries when dealing with development aid?
If, contrary to EDW's findings, the Commission has never funded abortions in third countries — either consciously or through negligence — and if it has no intention of doing so in the future, why are NGOs which provide abortions still able to apply for SRHR programmes and funding, and why do the calls for action not explicitly mention the exclusion of abortion-related activities as a condition in any future call for proposals relating to sexual and reproductive health and rights?
Writing on behalf of the Commission Development Aid Commissioner Andris Piebalgs has answered as follows:
The Commission notes that the question from the Honourable Member is similar to questions already asked by fellow parliamentarians. To this end the Honourable Member is kindly referred to the replies to questions E-12531/2013, E-005275/2012 and E-005269/2012  which clarify the EU's financing policy on abortion and our respect for partner countries' policies and legislation in this matter.

As to the European Dignity Watch report, it is founded on erroneous analysis of the EU's policies on funding health care and abortion in third countries and includes inaccurate interpretation of the International conference on population and development (ICPD). The Commission does not intend to comment further on this report.

The European citizen's initiative 'One of Us' (ECI(2012)000005) is currently subject to verification of statements of support by the competent national authorities. Once it has been officially received by the Commission, it will be examined according to the appropriate procedure. No interim measures have been planned.
One can deduce from this answer that the Commission has no intention to stop funding abortions.
With regard to the "EU's financing policy on abortion and our respect for partner countries' policies and legislation in this matter", what the Commissioner apparently means to say is that with regard to an earlier Question by another MEP he had already said the following:
The EU‑funded activities implemented by the partner organisations are conducted in respect of the legislation of the countries where they take place. Close attention is paid to ensure that EU development funds are used according to the national laws of the partner country when project proposals are evaluated and funding decisions are made. Programme implementation is also closely followed, including respect for the agreed contractual terms.
In simpler words: the Commission sees no problem in financing abortions in a third country, provided that abortion is legal in that country.
But while it is true that this practice would not be in breach of the legislation of the country at question, it remains nevertheless highly questionable whether the funding of abortion can ever be considered an appropriate use of funds that are earmarked for "development aid".
Indeed, Commissioner Piebalgs' reply reveals a very strange understanding of what he calls "our respect for partner countries' policies and legislation in this matter". The fact that a partner country (perhaps under diplomatic pressure from the EU and/or some of its Member States, as has been reported in some instances) allows abortion means that abortions will not be punished in that country, but it does not mean that the EU must, or should, finance them.
With regard to the report on the Commission's funding practices that was published by the NGO European Dignity Watch in 2012, it is remarkable that Commissioner Piebalgs does not directly deny the allegation that "the Commission did indeed fund NGOs providing abortion services in third countries where abortion is subject to constitutional restrictions". But the allagation is so serious that the Commissioner would certainly have denied it – provided, of course, that he were able to do so without telling a lie.
What instead he says is different: he claims that this report "is founded on erroneous analysis of the EU's policies on funding health care and abortion in third countries and includes inaccurate interpretation of the International conference on population and development (ICPD)".
It is most unfortunate that the Commissioner, whose style of writing is definitely reminiscent of the Soviet Union in which he was born, fails to provide even the slightest trace of an explanation why the report's analysis is "erroneous", or its interpretation "incorrect". His statement suffers from a complete lack of argument, while the report he criticizes has at least the merit of substantiating the claims it makes. In particular, it reveals (at pp. 15 and ss.) that legislation banning abortion is often circumvented by a procedure that is called "menstrual regulation". This practice consists in practicing an abortion without having verified that the woman is really pregnant. In this way, both the provider (i.e., an organization like IPPF, IPAS, or Marie Stopes International) and the financer (i.e., the European Commission) can claim that they had no intention of providing abortions.
I recommend you to read the report and judge for yourself.
As a conclusion, one must read the Commissioner's answer as an avowal that the European Commission has indeed financed abortions in third countries (possibly including in countries where abortion is illegal), and that it has no intention of changing this policy.
Posted on | February 17, 2014 by Grégor Puppinck, Ph.D
The 

European Centre for Law and Justice conducted a detailed analysis of the key provisions of the Spanish draft bill on abortion, comparing the law in force in other European countries as well as the jurisprudence of the European Court of Human rights (ECtHR). 

Here is a summary of this analysis which can be

downloaded HERE
On 20th December 2013, the Spanish Council of Ministers adopted a draft Bill named "the protection of the life of the unborn and the rights of the pregnant woman"[2] seeking to protect both the life of the unborn child and the rights to life and to health of the pregnant woman. If this draft Bill is adopted, it will replace the Act no. 2/201 on "sexual and reproductive health and abortion" of 3rd March 2010 which has been greatly criticised since its enactment. One million people having protested against that Act in October 2009[3].
The Spanish Act of 2010, modifying the previous Act of 1985, presents abortion as a right in itself rather than an exception the right to life of the child. Under this law adopted by the Government of Mr. Zapatero, abortion is available on demand during the first 14 weeks of pregnancy.[4] Abortion is further available up until the 22nd week in the case of "serious risk to the life or health of the mother or of the foetus"; however, due to the absence of a real control mechanism, abortion has in fact become available on demand until up to 22 weeks. Finally, in cases of serious and incurable disease at diagnosis, abortion can be performed until the end of pregnancy provided that the disease is certified by a committee of physicians, which may belong to the clinic performing the abortion in question[5]. Furthermore, this 2010 Act allowed underage girls to abort anonymously and heavily restricted the right to conscientious objection of medical staff. In short, the 2010 Act aimed to extend and facilitate abortion, which became a "right" in itself, and went so far as to restrict the rights of third parties.
In addition, this Act has allowed the appearance of unacceptable practices such as the development of a quasi-abortion industry, in specialised private institutions, some of which carry out lucrative late-term abortions[6] on an international "clientele".
The objective of the new draft Bill of 20th December 2013 is to end this logic of "abortion as an individual freedom" and to rebalance the rights of those involved, namely those of the unborn child and it's mother, as well as those of the parents (in cases of an abortion involving a minor), medical staff and of society as a whole.
This Bill is not based on the idea that there would be, or not, a right to abortion, but it is based on the first reality – the actual existence of the unborn child: a living human being who exists before birth and deserving of protection. This fact is often ignored or undervalued by those which view abortion primarily as a personal freedom.
The existence of this living human being – although still in gestation – excludes the possibility that a person can have absolute power over his life, and therefore can have a fundamental right to abortion. The starting point of this Bill therefore makes it impossible to assert a right to abortion. However, it intends to take into account the rights of all those involved in abortion whereas the 2010 Act gave a large priority to the rights of the mother. It is therefore about finding a better balance between the various rights and competing interests.
The result of this search for balance is that the life of an unborn child cannot be sacrificed without a proportionate reason. On the other hand, when there are no grounds justifying a request for abortion, the human life cannot therefore be sacrificed, but must be protected and upheld, with the support of society. As a result, the Bill has the effect of abolishing abortion "on demand".
The Bill determines the circumstances and conditions under which an abortion can be performed. Specifically, the text provides that abortion is decriminalised when practiced:
in the case of rape, during the first twelve weeks of pregnancy;
during the first 22 weeks of pregnancy, if the case of necessity is verified by an independent medical committee, and if no other solution can be found in a medical setting or otherwise, to prevent a serious threat to the life or the physical or mental health of the pregnant woman. This serious threat to the mental health of the mother can result from a malformation of the child such as to cause the child's death during pregnancy or shortly after birth. The period of 22 weeks of pregnancy corresponds to the threshold of viability of the child set by the World Health Organisation;
until the end of pregnancy when the child has an abnormality "incompatible with life"  undiagnosed during the first 22 weeks or when the continuation of pregnancy poses a critical risk to the mother's life, on medical verification.
In addition, the Bill restores several rights and obligations removed under the Act of 2010, in particular the fundamental right of medical staff to conscientious objection, the right of parents to be aware of the pregnancy of their minor daughter, the obligation to inform the pregnant woman and the reflection period. Finally, it prohibits pro-abortion advertising.
In fine, both the concerns of those who are "pro-abortion" and the optimism of those who are "pro-life" are excessive. Legally, this Bill does not violate any European or International norm. Instead, the text is aligned with the European "standard" where the Act of 2010 was not. The decision to reinstate the prohibition of abortion on demand is the most significant provision; such a ban has become a minority in Europe, but it is not unique and does not violate the European and International law.
However, the future application of this Bill remains unpredictable and depends largely on the political and cultural circumstances.
This Bill, while respecting European and international law, reflects a new political trend in the West which no longer considers abortion as a "freedom and progress", but as a violence which needs limiting and seeks to improve the legal protection of unborn children. This trend, which is already strong in the United States[1], has begun to assert itself in Europe.
A new prolife trend in Europe
This Bill goes against the dominant thinking inherited from the late 1960s and is a policy reversal. Although spectacular, this change fuels a new trend moving to replace the policy of "systematic abortion." This policy is in progress in Europe and the United States where several states have recently discussed and often adopted new laws to improve the protection of human life.
This is the case in the UK where the question of shortening the legal limit for abortion is often raised[7], but also in Switzerland which is preparing to vote in a referendum on the abolition of public funding of abortion[8]. In the past years, Russia adopted legislation strengthening the rights of the mother and child, while the Polish Parliament[9] has discussed and adopted, at first reading, new restrictions on abortion introduce by a citizen initiative. In the Baltic Latvia & Lithuania[10] where the Parliaments are currently considering the abolition of abortion on demand, In Hungary, the 2011 Constitution and  new laws protect human life from conception and promote the family[11]. In Turkey[12], the Government has tried to reduice the delay of abortion sown to four or six weeks, but had to renounced under the EU political pressure, while in Macedonia, the government succeeded restricting access to abortion[13]. Also in Norway[14] very recently, the Parliament has lowered the legal delay for abortion, fully guaranteeing the right to life of the child after 22 weeks. At the European level, the European Parliament, the Council of Europe[15] and the European Commissioner for Human Rights[16] have called for the prohibition of sex selective abortion; the EU Parliament having also recently rejected a draft Resolution promoting abortion as a universal "human right"[17].
This trend is even more pronounced in the United States where a true cultural transition is taking place. Thus, between 2010 and 2013, U.S. states have adopted 205 new restrictions on abortion, which is more than in the previous ten years[18]. They included introducing bans on abortion beyond 20 weeks in a dozen states[19], strengthening protection of unborn children with disabilities, the imposition of stricter conditions on clinics or further regulation of chemical abortion. North Dakota has reduced the legal limit to six weeks. In the same way, the number of states hostile to abortion has doubled between 2000 and 2013 from 13 to 27[20]. Finally, only 12% of the U.S. population still feels that abortion is morally acceptable, as opposed to 49%[21] who consider it immoral. The change is as profound as it is spectacular.
Abortion as an issue, not a solution
So after having rather extensively liberalised abortion, Western countries now seem to consider abortion more as an issue than as a freedom and the solution to the social problems of the mother. This new policy aims not only to improve the protection of the lives of unborn children. It also aims to support pregnant women and break their solitude in facing an unexpected pregnancy, to make adults more responsible, to support families as well as supporting the demographics and the economy. This policy is not intended to remove all abortions, but wants to reduce the number only to exceptional circumstances linked to the health of the mother.
This trend is partly motivated by a desire to sustain the demographics, but also, probably, by a "progress of conscience" about the nature of prenatal life and abortion. Advances in biology contribute to awareness of the concrete existence of a person from before his birth. As for the violence and suffering caused by the act of abortion itself, the militant discourse supporting abortion offers no response. Fewer and fewer doctors agree to practice it as the generations continue. The idea, inherited from the sexual revolution of the 1960s, that abortion is a "progress and freedom" is questioned. Thus, after several decades of extensive practice, the experience has lead governments to try another policy.
Spain is currently the subject of strong criticism, as other European governments keen to restrict abortion were. Amongst these governments, some have resisted criticism and managed to adopt their Bill, others have succumbed to the pressure, such as Turkey. It is probably in order to answer these criticisms that the Spanish Minister of Justice, Alberto Ruiz Gallardon, will soon come to Brussels; but his intention is primarily to explain and promote this new policy in Europe. He is "confident that this initiative will be followed by other parliaments of other European nations."[22]
Just like the Zapatero government wanted to create a "right to abortion" in Spanish culture, the current government wants to promote a culture that protects the life of unborn children, strengthens the responsibility of adults and responds positively, by other means than abortion, to the difficulties of pregnant women.
In Spain, as in the rest of Europe, the abortion rate is very high and constitutes a public health problem[23]. The question is whether this Bill will be accompanied by a cultural change if society's realisation of its responsibility to protect and support life will be added to the current understanding of the humanity of unborn life and the violence of abortion. The majority of abortions are caused by socio-economic difficulties, particularly related to financial resources, housing, employment[24] or resulting from the pressures from the father. Rather than encouraging abortion as the main solution to these problems, especially in times of crisis, society and governments should fulfil their social responsibilities. Such a law cannot reduce significantly the abortion rate if society and governments do not engage in policies to prevent abortion, giving women and couples the means to fulfil their responsibilities. The responsibility of the home life should not weigh only on the mother but also on the father, and more broadly on society whose survival is assured by the renewal of generations.
- See more at: http://eclj.org/Releases/Read.aspx?GUID=1ae71f49-2d31-4364-a619-f149b8505e9a&s=eur#sthash.4ww7CdDB.dpuf
Posted on | February 15, 2014 by Grégor Puppinck, Ph.D
The "right to abortion" is on the decline in Europe and in the United States which explains the will of the French government to reaffirm it.
Two million abortions are legally practiced each year in Europe. To this day, only a third of European States still prohibit abortion on demand. However, the proportion of States which pose conditions on abortion during the first weeks of gestation may increase.  In fact, in recent years, a growing number of European and American States are reopening the debate on abortion and revising their legislation in a restrictive sense. The Spanish Bill is an example, amongst others, to the point that we can now speak of a trend. This moves towards considering abortion more as a social problem than as a right or an individual freedom. In general, these new laws aim to reduce the legal time limit for abortion in order to better protect the child and to avoid abortions which lack a sufficiently serious motive.
Apart from the symbolic case of Spain, where the Bill aims to remove abortion on demand, the British Parliament regularly considers the reduction of the legal time limit for abortion, with the support of the current Prime Minister[1], as in Norway[2] which, at the beginning of January 2014, completely prohibited abortion after 22 weeks – the threshold of viability outside the womb as determined by the World Health Organisation. In Switzerland[3], a public initiative referendum demanding an end to the public financing of abortion on demand was successfully introduced and the population will vote on it on 9th February. Currently, the Lithuanian Parliament[4] is examining a Bill removing abortion on demand following the example of the Polish legislature. Supported by several political parties, it has already been approved in the parliamentary committee. The Latvian Parliament had, the previous year, reopened the issue, in particular in order to impose on women a systematic social interview prior to any abortion.  In Poland, the question as to further limiting abortion frequently arises: in 2011 the total prohibition of abortion was only five votes short of being adopted by the Parliament.[5] The same year, Hungary[6] adopted a new Constitution which protects life from the moment of conception and has since implemented a policy in favour of welcoming life and adoption. This has achieved a reduction in the rate of abortion. Macedonia also adopted, on 10th June 2013, a new law strongly reinforcing the protection of life after 10 weeks.[7]  Since 2011, the Russian government has embarked on a policy with the aim that abortion will no longer be used as a method of contraception. The Soviet regime had "normalised" this act so much that 4 million abortions were being performed annually. This figure was reduced to 1.3 million, which is equal to the number of annual births.[8] As for Turkey[9], in May 2012 its government announced plans to reduce the legal time limit for abortion from ten to six or four weeks.  However, this was abandoned following intense European pressure.
This trend is even more pronounced in the United States where only 12% of the population still believes that abortion is morally acceptable[10]. Between 2010 and 2013, American states have adopted 205 new restrictions on abortion, more than during the previous decade[11]. The change is as spectacular as it is profound.
This trend is also perceptible within the European institutions which have, until now, refused to create a European right to abortion. The Committee of Ministers of the Council of Europe refused to set out such a right in July 2013[12], while the European Commission regularly states that this question is not within its competence[13]. On 10th December 2013, the European Parliament rejected a resolution that wished to make abortion a fundamental right[14]. On the other hand, it has condemned sex-selective abortions and abortion policies such as exist in China. The Assembly[15] and the Commissioner for Human Rights[16] of the Council of Europe have done the same. As for the European Court of Human Rights, it has always refused to create a right to abortion which would be legally binding upon member States, even though there have been many applications to that effect. The Court recognises that the unborn child exists, without necessarily being a legal person, and that it belongs to "the human species" and deserves protection as such. The Court adds that if States decide to legalise abortion then they must consider the rights of the different actors: the woman, the child and society. Similarly, the Court of Justice of the European Union in Luxembourg has recognised that the human embryo deserves the protection of the law due to respect for human dignity as it is a stage in the developmental process of the human being[17].
Both politically and legally, European law does not guarantee the right to an abortion, nor does international law which only guarantees the right to life for every human being and encourages States "to reduce the recourse to abortion"[18] which "must, as far as possible, be avoided"[19].
The European Citizens' Initiative "One of Us" is a sign that this trend enjoys the support of civil society. It has obtained the support of two million people, a number which has not been equalled to this day. It asks the European Union, through a mechanism of participative democracy, to no longer finance abortion and destructive embryonic research. The Commission and the European Parliament will make a decision regarding this request within the next few months.
This cultural evolution causes violent conflict because it goes against the dominant culture inherited from the 1960s. It is in this context that the will of the French government to normalise abortion and to make it a fundamental right of women can be understood. But this "right", in order to exist and to last, implies that the embryo and the human foetus can be permanently ignored. Yet, the progress of science and consciousness working together, slowly but surely, has led to their better understanding of each other and, certainly, has also led to the recognition of their humanity.
Thus the "right to abortion" is in decline for two powerful reasons.  By reason of experience: liberal legislation is revealed to be unsatisfactory, and a theoretical reason: scientific progress prompts the pushing back of the frontier of humanity to before birth.  The decline of "the right to abortion" is more challenging for society than its advance because it demands that we be more human, responsible and united in order to recognise and welcome the lives of all.
A human at 14 weeks
[1] The Guardian, The abortion debate: the statistics, 8 October 2012.
[2] Dagbladet.no, Abort etter uke 22 blir forbudt, 2 January 2014.
[3] A referendum, of public initiative on "Financing abortion is a private matter" will be voted on 9th February 2014.
[4] « Lituanie : le Parlement va débattre de l'interdiction de l'avortement », LePoint.fr, 28 May 2013.
[5] http://www.astra.org.pl/repronews/83-polish-parliament-to-debate-two-draft-bills-regarding-access-to-abortion-today.html
[6] Corentin Léotard « Une remise en cause du droit à l'avortement en Hongrie ? » HU-lala, 18 April 2011.
[7] Planning Familial, « Le droit à l'avortement régresse en Macédoine », Le Courrier des Balkans
« Macédoine : le gouvernement s'attaque au droit à l'avortement ».
[8] Svetlana Smetanina, La Russie d'Aujourd'hui, « Les femmes russes, championnes de l'avortement », 29 March 2013.
[9] « Turquie: une restriction de l'avortement? », Le Figaro, 30 May 2012.
[10] See the survey for the Huffington Post by Omnibus Poll in June 2013.
[11] Guttmacher Institute, More State Abortion Restrictions Were Enacted in 2011–2013 Than in the Entire Previous Decade, 2 January 2014; S. Klift, States passed 205 abortion restrictions in three years. That's totally unprecedented, The Washington Post, 3 January 2014.
[12] Response by the Committee of Ministers of the Council of Europe, 3 July 2013 to the Written Question No. 633: "Does the European Convention on Human Rights set out a right to abortion?"
[13] See in particular the statement given by Commissioner Dali on 30 April 2012.
[14] Motion for a Resolution and Report no. 2013/2040(INI) on Sexual and Reproductive Health and Rights, 3 December 2013.
[15] PACE, Resolution 1829 (2011), 3 October 2011, Prenatal sex selection.
[16] Commissioner for Human Rights, Sex-selective abortions are discriminatory and should be banned, 15 January 2014.
[17] CJEU, Brüstle v. Greenpeace V, C-34/10. 18 October 2011.
[18] Programme of Action, § 8.25. Report of the International Conference on Population and Development, Cairo, 5-13 September 1994, United Nations, New York, 1995. Available at the following address: http://www.unfpa.org/webdav/site/global/shared/documents/publications/2004/icpd_fre.pdf.
[19] Parliamentary Assembly of the Council of Europe, Resolution 1607 of 16 April 2008.
- See more at: http://eclj.org/Releases/Read.aspx?GUID=1e0c3ea7-c42f-4935-8a97-5045e65e76fe&s=eur#sthash.7uF4sQx8.dpuf
Posted on | February 13, 2014 by Wendy Wright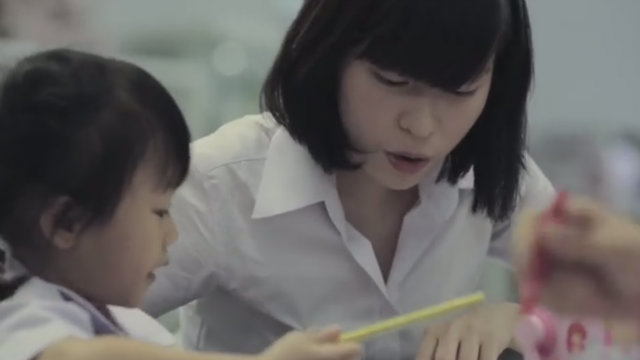 Wacoal, a Thai lingerie company, is redefining beauty with its "Beauty Inside" campaign. The short 7-minute videos tell stories, based on actual events, of women whose quiet sacrifices — including for an unborn child — win the admiration of men who tell the stories. And, tears from viewers.
The message? Virtue is gorgeous.
"Beauty Inside" is far better watched than told. Before anyone spoils the endings — Go, now, and enjoy as they unfold. Then send to everyone.
They leave you wanting to be like these women.
Don't worry — no lingerie is shown. No product is touted. I had to search to find out who produced the campaign. When I discovered it was a lingerie company, the ads were even more powerful.
"Jane and June" may be the most touching. "Ae" is practically ripped from recent news headlines. Each portrays women in ways that break stereotypes. And show the strength it takes to set aside reputation, career, even one's life to help someone else.
These women reveal: you will find your life by losing it.
The tagline "All women were created to be beautiful" subtly highlights that beauty — true beauty — is attainable.
And inside beauty is attractive to everyone. The men who tell the stories are a friend, a boss, and a husband.
What a welcome contrast to narcissistic Victoria Secrets, with airbrushed models (many with real-life broken lives). Their attractiveness, unattainable by most women, may grant fleeting lustful glances, but not enduring love, nor inspire others to kindness.
Even the "Real Beauty" Dove campaign spotlighting larger-than-model-sized women focused on women's bodies. They made consumers feel better about their flaws.
But "Beauty Inside" elevates your soul. It inspires you to love others. To discover that joy comes when you put yourself second.
And, ironically, the ads don't mention a product. Dove sold soap by featuring women in underwear. Wacoal — a lingerie company — shows no hint of skin.
(Yet Wacoal's ads prompted me to look for their products.)
Pushing sex, power and self-centeredness as the greatest goals — in culture and policies — corrupts us and how we treat others. It creates "inside ugly" people.
Selfless, kind people — don't you want to be one, and around them?
Virtue is a worthy goal and a winning strategy. Let's hope culture-influencers and policy-makers alike adopt it.
"Your beauty should not come from outward adornment," wrote a wise man. "Instead, it should be that of your inner self, the unfading beauty of a gentle and quiet spirit, which is of great worth in God's sight."
This is as true now as when it was written 2,000 years ago.
Posted on | February 8, 2014 by J.C. von Krempach, J.D.
A friend recently sent me this document:
I wasn't aware that the EU had such a High Level Group. A Google search led me to the European Commission's website, which informed me that indeed such a group exists. It is "an informal group created in 2001 and comprises high-level representatives responsible for gender mainstreaming at national level. It is chaired by the European Commission at regular meetings convened in close collaboration with the Presidency."
This raises some questions:
First of all, what is "gender mainstreaming"?
Second, does "informal" mean that there is no legal base for this group? If so, why does it exist, and why is the European Commission chairing it?
Third, is "gender mainstreaming", whatever it is, compulsory for Member States?
My search in EurLex, the central database on all EU legislation and policy documents, led to the result that there currently is no legislative act in which this term is ever mentioned. The term appears in various (non-binding) resolutions of the European Parliament, but no legally binding texts.
There is one "Commission Communication on the Implementation of gender mainstreaming in the Structural Funds programming documents 2000-2006" in which an attempt is made to define "gender mainstreaming". It runs as follows:
«Gender mainstreaming» involves ensuring that all general measures and operations openly and actively take into account – during planning, implementation, monitoring and evaluation – their effects on the respective situations of women and men. It also involves the complementary design, implementation, monitoring and evaluation of specific measures and operations to promote equality and to assist women to participate and benefit equally.

Overall, plans and programmes should contribute to improved equality between men and women, and should be able to demonstrate this impact, prior to, during and after implementation.
This definition is not really one: it says what "gender mainstreaming" involves, not what it is. And the text in which it is contained is not a legislative act, but a mere communication without any legally binding effect whatsoever. In other words, "gender mainstreaming" does not exist as a legal term in the EU. Therefore, "gender mainstreaming" cannot be an agreed EU policy.
As a matter of consequence, there can be no legal base for a "High Level Group on Gender Mainstreaming". Nor should the Commission be chairing it.
So, it seems that bureaucrats from the Commission and Member States' governments meet in an "informal" working group, in which they impose on citizens a policy without legal basis. The general impression is that we are confronted with a political machinery that is completely detached from even the remotest form of democratic legitimacy.
Posted on | February 7, 2014 by Lisa Correnti
A closer examination of a recent Guttmacher report that showed a significant drop in abortions could be due to more women choosing to have their babies.
It's no surprise that Guttmacher attributes the decline of 150,000 abortions from 2008 to 2011 a result of greater contraceptive use with more women choosing to use long acting contraception — hormonal injectables, implants, etc. This would be good news for the Obama administration — they could certainly use it to support the contraceptive mandate in Obamacare.
However a closer analysis by the National Right to Life reveals that there were less abortions because more pregnant women chose Life! It also showed that clinics that performed the most abortions on an annual basis were the ones that saw the largest decline in women coming to them to seek an abortion. This would indicate the "pro-choice woman" — the woman that would seek her reproductive health needs from, say, a Planned Parenthood clinic — is now more pro-life than 3 years ago. Read the analysis here.
Posted on | February 5, 2014 by Lisa Correnti
Young women representing a feminist pro-abortion group have been launching attacks against members of the Church hierarchy for adhering to Church teaching and supporting public policy that safeguards the dignity of the human person. AFP reported on the latest incident in which semi-nude women attacked the Archbishop of Madrid for supporting pending legislation in Spain that would restrict abortion.
The anger demonstrated by these young women is obviously misguided. The real source of their suffering is from the emptiness they feel from buying into the sexual freedom myth that indoctrinated them since their youth.
The California based, Ruth Institute will host a conference this month to offer healing to women that have been wounded by the sexual revolution.
The Ruth Institute identifies victims of the contraceptive culture as the following:
Posted on | February 5, 2014 by Lisa Correnti
Tewodros Melesse, Director-General of the London-based International Planned Parenthood Federation is appealing for funding to reach the needs of the millions of displaced Syrian women and children now living in refugee camps due to the the conflict in the region.
Melesse would want you to believe Planned Parenthood is a humanitarian assistance group — hardly! Planned Parenthood performs hundreds of thousands of abortions per year, advocates for unrestricted abortion rights for women and young girls without parental consent, sexualizes young children through inappropriate sexual education and distributes a harmful injectable contraceptive to low income women and girls without informed consent.
As it should, the Obama administration has committed millions in aid to Syrian refugees. There are many notable international aid assistance groups working to bring real holistic humanitarian assistance to these vulnerable people. Planned Parenthood should not receive another funding stream — and Congress should take the necessary steps to assure it doesn't.
Posted on | February 4, 2014 by J.C. von Krempach, J.D.
While the controversial "Lunacek-Report", which it has adopted today, calls on EU Member States to "register and investigate hate crimes against LGBTI people, and adopt criminal legislation prohibiting incitement to hatred on grounds of sexual orientation and gender identity", the European Parliament seems very much less concerned about the hate crimes that actually do take place in Europe.
Here are just two very recent examples:
On last Sunday evening, the Archbishop of Madrid, Cardinal Antonio Maria Rouco Varela, was physically assaulted by a group of topless females who yelled "abortion is sacred". This is just the latest of a series of similar attacks, all of which involved physical violence, against high-ranking representatives of the Catholic Church. Violence by homosexualist/abortionist/feminist activists against peaceful Christians appears to be turning into an everyday normality in Europe, but the EP does not seem to worry. It's one and only concern is so-called "homophobia"…  See a full report and commentary here. Video footage is here.

The violence of Feminism is not restricted to abortion. At times it is directed at elderly priests…

One week earlier, on 24 January, the centre of the Austrian capital Vienna was vandalized by a left-extremist mob. The violence took place under the pretext of a "political" protest against …. a peaceful dancing event! Some years ago, radical neo-communists developed the habit of molesting and assaulting the visitors of the world famous Vienna Opera Ball, taking them as the personification of the "rich and beautiful" against whom they wanted to launch a new type of "class struggle". More recently, they have directed their aggression against another ball event, the "Akademikerball", under the pretext that visitors of that ball are "Nazis". (The word "nazi" in this context refers to anyone who is not a communist.) Last Sunday was the third time that this ball became the target of the aggression. The government deployed more than 2000 police officers who managed to fend off attempts of the hooligans to storm the Imperial "Hofburg" Palace where the ball took place, but were not able to prevent them to wreak havoc in other parts of the city. Shop windows were broken (including that of a Jewish-owned jewellery shop, which creates most unfortunate associations…), and cars were set on fire by street gangs howling slogans like "unseren Hass könnt Ihr haben" (i.e., "You can have our hate"). This is a rare instance in which a hate crime is openly described as such by those committing it. There were 22 injured, and the damage was estimated at 1 million Euro.
Why do I report this here? Because the hooligans received logistic and political support from the youth organization of the Austrian "Green Alternative" Party –that is, the very same party that Mrs. Lunacek, the author of the homonymous report, is representing in the European Parliament. But the same Mrs. Lunacek who whines about (fictitious?) hate crimes against gays and lesbians has not found one word of regret for the very concrete and real violence that has been instigated by the youth movement of her own party. Nor has she offered any apologies to the victims of that violence, many of whom had simply the bad luck of being the owners of the shops and the cars along the march-route of the green-communist mob.
These and many similar incidents shed a particularly "queer" light on the European Parliament's ill-advised decision to reject a motion that would have called on the EU and its Member States to ensure the full and equal enjoyment of human rights by all citizens, and instead adopt a text that affirms and promotes solely the rights of persons with unusual sexual behaviours. Of course, we should by now be accustomed to the fact that the Greens in the EP have a rather selective approach to human rights. And of course it is significant that the Communists in the European parliament (some of whom represent the former State Partys of the former Soviet bloc!) have voted en bloc in favour of the Lunacek-report: indeed, this report represents a version of "human rights" that is perfectly compatible with the red fascism these groups stand for.
What is less easy to understand is how the representatives of so-called "mainstream" parties could go along with this absurdly distorted understanding of human rights and think they are doing something good with it.
The adoption of the "Lunacek-Report" sends a clear message: there are some hate crimes that can't be tolerated, and others that can.
Posted on | February 4, 2014 by J.C. von Krempach, J.D.
With 394 to 176 votes with 72 abstentions, the European Parliament has today adopted the highly controversial "Lunacek-Report" despite unprecedented massive protests by European citizens. In doing so, the European Parliament has severely damaged its own pretensions to represent the people that elect it. Even worse: by adopting this report, which advocates legal privileges for homosexuals, and at the same time rejecting an alternative motion that called on the EU and its Member States to ensure the full and equal enjoyment of all human rights by all citizens, the Parliament has put a thick question mark behind its claim to be an institution that protects human rights.
In other words, the European Parliament has with today's vote rejected the principle of universality of human rights. This is a day of shame.
Given that this blog was the only website to publish a full and comprehensive analysis of the report, there is no need for us to expand on its problematic content once again. The glaring inconsistencies of this document will of course remain inconsequential as long as no attempt will be made to put it into practice – but it is clear that any attempt to adopt or implement a "roadmap" of the kind that was proposed by Mrs. Lunacek will trigger renewed, and even stronger, resistance from civil society.
Despite the outcome of today's vote, we can say that we are standing at a watershed in the cultural war that is currently taking place in Europe. This war will not be won in one day. But the situation has changed considerably: until a very short time ago, the homosexualist/feminist/abortionist lobbies could consider the EU's institutions to be the perfect place for promoting their agenda without any public scrutiny: these institutions are far removed from ordinary citizens, but very receptive for the influence of wealthy lobbies (in particular those they have created themselves). For many years, the EU adopted reports, working papers, legislative proposals, etc. to promote homosexuality – and most of the time the wider public was not aware of what was going on. However, the success of the citizens' initiative "One of Us", the defeat of the ignominious "Estrela Report", and the mass mobilization of citizens against the "Lunacek Report" show that the tide is turning: people are now informed about the European Parliament's activities, and they get involved. Of course, nothing can prevent elected politicians to vote in favour of a text is so overwhelmingly rejected by their electorates. But there is a price to be paid, and this price will be seen at the upcoming elections.
The outcome of today's vote is particularly damaging for the European People's Party (EPP), which was nearly split on the matter – but with a majority voting against the advice of its co-rapporteurs Roberta Metsola, who had taken side in favour of the controversial document. The impression is that the EPP has committed the mistake of handing over the responsibility for this file to an inexperienced Member who, instead of properly consulting on the matter, substituted her personal opinions for those of the group she ought to have represented.
For those of us who think that human rights must be universal, the outcome of this vote is disappointing. But it is a defeat without major consequences. On the contrary, the overwhelmingly negative public response to the Lunacek-Report is an encouraging sign that the true understanding of human rights will in the end prevail. It is now necessary to keep the pressure up high.
Posted on | January 30, 2014 by J.C. von Krempach, J.D.
Next Tuesday the European Parliament will vote on the controversial "Lunacek-Report", and the outcome is hard to predict.
Surely, if the opinion of ordinary European citizens had a decisive role to play, there could be no doubt that the draft would suffer a spectacular defeat. While the internet platform "CitizenGO" has alone collected 120.000 signatures for a petition to reject the Lunacek-Report, there are several other petitions (for example here, here and here) that have drawn a lot of support, so that the total number of protest letters that citizens sent to one or several Members of the EP can be safely estimated at 200.000 or higher. To counterbalance this, the taxpayer-funded LGBT lobby group "ILGA-Europe" has set up a petition to support the "Lunacek-Report", which (since yesterday evening, i.e. in 19 hrs) has garnered the spectacular amount of 85 signatures… If there ever had been any doubt that ILGA-Europe is an artificial sock-puppet that has no link at all to real civil society, here is the proof. One nearly feels sorry for them.
Inside the European Parliament, however, things are very different. Greens, Communists (GUE/NGL), Socialists (S&D), and Liberals (ALDE) must be expected to vote nearly en bloc in favour of the controversial proposal, with very few defections. This is partly due to the fact that these groups have a deeply entrenched aversion against the natural family, which they see as something that needs to be destroyed and overcome. And they are simply not concerned about what the ordinary citizen thinks on those matters – they know better than ordinary citizens.
Among the Conservatives (ECR) and the European People's Party (EPP), by contrast, the situation is more complicated, and votes on social issues often create considerable internal tensions. On the one hand, a majority of their MEPs are clearly opposed to the Anti-life and anti-family agenda for which the trademarks Estrela and Lunacek stand – because they very well know that this is what their electorate expects of them. But on the other hand, they have handed over all responsibility for those "soft" issues to politicians who do not represent the mainstream of the electorate they should be representing. It all seems based on a strange misconception about "expertise": responsibility for women's rights is handed over to radical feminists (of which, in a large political group like the EPP, one will always find a few, even if they are not the mainstream), and responsibilities for issues related to marriage and family are controlled by gay (or "gay-friendly") politicians, as if these were the only stakeholders. As a result, the feminist/homosexualist ideology is grossly overrepresented, even inside the more conservative political movements.
Regarding the "Lunacek-Report", a particularly strange role is played by EPP politicians Roberta Metsola (Malta), Véronique Mathieu (France), Michèle Striffler (France), and (Manfred Weber), who are doing all they can to get the draft adopted despite the massive criticism it receives from inside and outside the party. Among other things, these politicians have prevented the tabling of an alternative motion that, while making a clear statement against the discrimination of homosexuals, would have avoided at least the most problematic content of the Lunacek draft.
As matters stand now, MEPs will face three options. One is to accept the controversial Lunacek draft. The second is to reject it, so there will be no resolution. The third is to vote for an alternative motion that has been tabled by the EFD (Europe for Freedom and Democracy) group.
The third option is the most interesting one. The problem is that EFD is the political groups comprising the radical Euro-sceptics, spearheaded by the media-savvy Nigel Farage of the UK Independence Party, and comprising political movements such as the LEGA Nord (Italy) or the Vlaams Belang (Belgium), which promote regional separatism within their own respective countries. But on the other hand, the EFD motion is drafted in very sober and perfectly reasonable terms, and it will be difficult for MEPs, including from the House's left wing, to vote against it. What it says is the following:
This is a very clever move. The text is neutral. In fact, it also mentions (among other possible grounds for discrimination) sexual orientation, so it clearly cannot be accused of "homophobia". This alternative motion will be the first one to be voted on – if it is accepted, the Lunacek draft falls (this is the same thing that happened to the Estrela-Report last 10 December). In other words, before the Lunacek draft can be voted, the MEPs supporting it (this includes, as we have mentioned, the Green, Communist, Socialist, and Liberal Members, but also some EPP politicians) will have to make a statement that they are AGAINST "ensuring the full and equal enjoyment of all fundamental rights by all citizens". And that would pretty well evidence what the whole Lunacek controversy is about.
So, this is the unique occasion – just timely before the upcoming elections - to see how sincere the green-left-liberal rhetoric about discrimination really is. Who is for protecting the human rights of ALL citizens, and who is for granting privileges to people with unusual "sexual orientations"? We will see it on Tuesday.
However, whatever the outcome will be, the pro-family movement can already now be considered to be the winner of the debate. The Lunacek-Report, if it gets adopted, will not be legally binding anyway. But the huge mobilization against it evidences that the real concern of people is not about so-called "homophobia", but about the surreptitious falsification and manipulation of human rights. The public has now awakened, and it will become increasingly difficult for politicians to ignore this.
P.S.: a small update: the homosexual network inside the EP (aka the "Intergroup") has now also tabled an alternative motion. Think of that – Mrs. Lunacek proposes an alternative to her own draft! Is the purpose only to create confusion? In any case, Lunacek (new) is exactly the same as Lunacek (old), except that, as a "concession", it contains also a vague statement on "the freedom to express and display one's beliefs and opinions". This comes at a very late stage (in fact, even after the official deadline, which raises questions regarding admissibility) – but it is completely inapt to dispel any of the criticism that civil society has voiced. In other words, it does not really change the situation. The rather strange attitude of the LGBT-lobby towards freedom of religion is well known from a variety of occasions.
Posted on | January 29, 2014 by J.C. von Krempach, J.D.
In view of increasing criticism against the controversial "Lunacek-Report", which (unprecedented for a non-binding "initiative report" of which the wider public normally takes no notice at all!) has caused more than 100.000 EU citizens to write protest mails to the European Parliament, the LGBT-Intergroup of the European Parliament has published a statement to "debunk the myths" that surround the unpopular draft.
But is the criticism really based on "myths"? It may help to look not at the so-called "myths", but at the document itself. This blog is the first place on the internet to publish the full text of the draft along with comments that provide clear and irrefutable arguments why the report should be rejected:
it is the result of a very questionable procedure: the parliamentary committees competent for Health, Legal Affairs, and Education appear to have been deliberately sidelined, although the draft deals with those matters. The draft is now scheduled to be voted in Plenary without debate (which is the exactly same strategy that was used for the Estrela-Report). In other words: this report is a "cuckoo's egg": it represents the attempt to get a document adopted of which the MEPs know only the title, but not the content;
it disrespects the principle of subsidiarity;
it disrespects the principle that human rights should be fully and equally enjoyed by all citizens, and insteads creates a two-class society in which the rights of one social group receive grater consideration than those of all other citizens;
it seeks to impose an obligation to legally recognize same-sex "marriages" on all Member States, including those where it is explicitly ruled out by constitutional law;
it is built upon bogus science;
it represents an attempt of political interference in scientific debate and thus interferes with the freedom and independence of scientific debate.
Click on the tumbnails and judge for yourself!
Posted on | January 28, 2014 by J.C. von Krempach, J.D.
Posted on | January 27, 2014 by J.C. von Krempach, J.D.
New criticism emerges concerning the EU Fundamental Rights Agency's so-called "LGBT Survey", which serves as the "scientific" pretext for the controversial Lunacek Report.
Read here.
Posted on | January 26, 2014 by J.C. von Krempach, J.D.
The controversial "Lunacek-Report", on which this blog was the first to publish an analysis, seems now set to become a new milestone in the European Parliament's history: the most unpopular non-binding document the House has ever debated.
When some weeks ago the so-called "Estrela-Report" drew an estimated 80.000 protest e-mails from angry EU citizens to their elected MEPs, many may have thought that this unprecedented mobilization of citizens was unlikely to be repeated. But the "Lunacek-Report" seems to spur even stronger discontentment. Petitions asking MEPs to vote against the draft have already been signed by more than 60.000 citizens, and the mobilization is just beginning. What seems to motivate many people to sign those petitions is that (according to the organizers) each signature automatically results in a protest letter being sent to each MEP. As one has heard from EP staff, the inboxes of MEPs are cracking full…
Of course, given that those e-mails have a standard text, no MEP will read them, or answer them, individually. As the drafter of the controversial report, Mrs. Ulrike Lunacek, has stated (with regard to the Estrela-Report, of which she also was a very supporter): "those e-mails go directly into the junk file. I don't read them."
But even this kind of "junk" conveys a clear political message: citizens don't want the Lunacek-Report. MEPs usually do notice what fills their junk files, and they do draw conclusions therefrom. Not all MEPs are as provocatively uninterested as Mrs. Lunacek in the opinions of the citizens they should be representing. They know that behind each of the 60.000 messages they have received so far there is a real and individual person, and that that person has a vote in the upcoming elections. And they also know that, given that it is all about a legally non-binding "initiative report", 60.000 protest mails are a spectacularly high number, showing that people think there is something seriously wrong with the way in which some EU politicians seek to falsify the concept of human rights, turning it into an agenda of homosexual privileges.
Besides the deluge of written protest, on 2 February there will be public rallies in favour of marriage and family in various European capitals. These rallies, too, will voice protest against the Lunacek-Report, which is going to be voted (as we have come to expect, without debate!!!) in the European Parliament's plenary just two days later.
Of course, there are also some politicians and media outlets who still seek to defend the controversial draft. Their main argument appears to be: the Lunacek-Report cannot have the negative effects that its opponents decry, because it is not legally binding. It is a mere recommendation. It is just harmless… So, apparently, the best argument in favour of the document is that it has no binding effect?? MEPs should vote for it, because it is irrelevant?? Well, if the supporters of the draft have nothing but this to say, then the case they want to make must be really weak.
And of course they want to downplay the public protest against their draft. 60.000 signatures, theymight  say, is not a big deal. But, on the other hand, is there any similar mobilization in favour of the report?? Who, except the usual lunatic fringe inside the EP, does actually want the EU to adopt such a paper?
Shortly before the EU elections, it is time for politicians in Europe to understand that the radical LGBT agenda has no support within the electorate. In particular the Christian-democrat European People's Party (EPP) should be aware that lending support to a document like the Lunacek-Report is not what they have been elected for. The EPP is expected to lose up to 100 of the seats it currently occupies. It's inertia regarding the attempts of the political left to re-invent human rights may be part of the explanation.
Posted on | January 23, 2014 by Rebecca Oas, Ph.D
"There are three kinds of lies: lies, damned lies, and statistics."
-Original source unknown, often attributed to Mark Twain
"Champion of Choice" and former UNFPA chief Nafis Sadik spoke at the 7th Asia-Pacific Conference on Reproductive and Sexual Health and Rights this week.  UNFPA reports:
"Dr. Sadik offered a candid assessment of achievements since 1994 but also of unfinished challenges. Maternal mortality has been reduced by 40 per cent worldwide, less than the 75 per cent reduction in 20 years that the ICPD called for. Deaths due to unsafe abortion have not declined at all. Fertility rates have fallen sharply, but the number of women with an unmet need for contraception has not, and family planning has slipped in the global development agenda."
(Emphasis mine)
Maternal morality has declined worldwide.  It is an umbrella term that includes such causes as postpartum hemorrhage, maternal sepsis, maternal hypertension, and other causes.  It also includes deaths resulting from abortion.  The relative proportion of maternal mortality attributable to abortion has remained fairly constant at about 13% over the same period of time that maternal mortality has declined by 40%.  In other words, deaths from abortion have declined, at a rate proportionate to other maternal causes of death – by about 40%.
Based on these facts, there is every reason to think that maternal mortality can be reduced by the full 75% called for by ICPD, and all without creating a right to abortion.
Why is this important?  Maternal health improvements are largely due to the kind of healthcare and infrastructure improvements that have had huge results in Latin America.  Decent roads, access to trained medical workers, high-quality modern equipment, sanitary conditions, and so on.  These things not only benefit expectant mothers, but everyone else as well.  And even if abortion is illegal, a woman is far less likely to die from one if health standards are high overall.  Again, see Latin America, particularly the work of demographer Dr. Elard Koch.
Abortion proponents have hitched their wagon to the proposition that maternal health cannot be improved without them.  We know that it can – but their flawed argument will persist until giving birth becomes safe everywhere.
keep looking »