Posted on | September 28, 2012 by Lisa Correnti |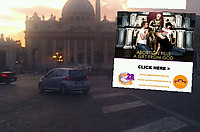 Dubbed "virtual occupation" a group called Women on Waves has launched a campaign to  further promote "do-it-yourself" abortions.
This latest endeavor to help women access misoprostol pills for a medical abortion comes by way of a downloadable phone application featuring religious and governmental buildings from around the world including one with an image of the Vatican with the title " Abortion Pills, a Gift from God."
This Dutch group known for traveling to countries where abortion is illegal to assist in medical abortions and for instructing women on self-administerd abortions, ignores medical warnings on using misoprostol for off-label use to obtain an abortion.
Women on Waves circumvents national laws by keeping the ship outside a 12 mile radius which is beyond territorial waters where Dutch law governs their activites – with abortion being legal.
This latest stunt is a joint effort with with the Women's Global Network for Reproductive Rights to commemorate their Global Day of Action for the Decriminalization of Abortion which falls on September 28.
Some additional backdrops include the White House and the Statue of Liberty, Church of the Nativity in Bethlehem, Catholic Bishop's Conference of the Philippines in Manilla, the Cathedral of Christ the Savior in Russia, Cathedral of the Assumption of Mary of Mexico City and Parliament Building in Warsaw.